PERFORMERS
Countless Music Experiences
Click on the icons to visit the performer's music sample libraries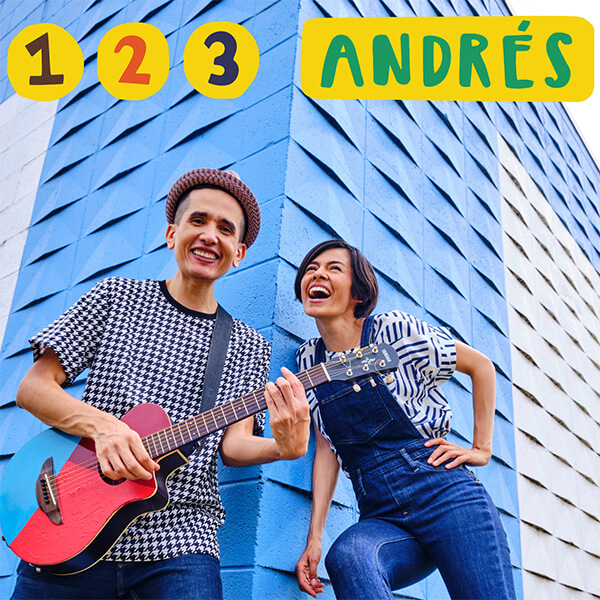 123 Andrés Washington D.C.
Andrés and Christina are the Latin Grammy-winning music duo 123 Andrés. Their catchy songs and lively performances get the whole family dancing, singing, and learning! These high-energy, joyful shows celebrate the Latinx experience and incorporate Spanish, English, and ASL languages.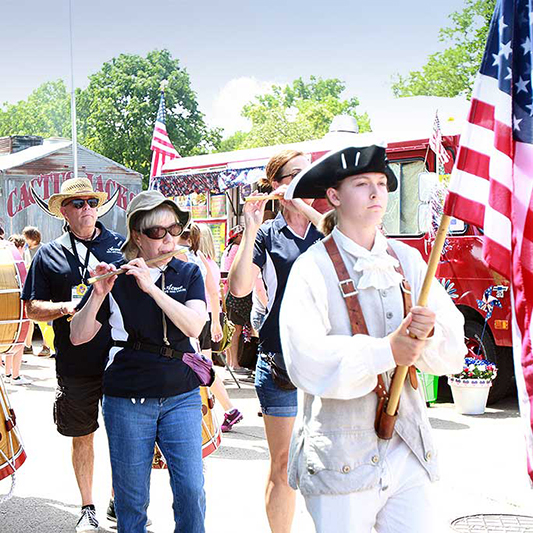 Acme Fife & Drum Salina, KS
Authentic fife and drum music from the American Revolution, the Civil War, adaptations of Irish, Scottish, English folk tunes, and modern rudimental-style field drumming greet you at the Events Center Bridge and throughout the Festival.
Barnaby Bright Kansas City, MO
Becky and Nathan Bliss make up the critically-acclaimed group Barnaby Bright and have accumulated a dedicated following that feeds on their ability to spin storytelling into sonic treasures. Nathan's virtuosic acoustic guitar & banjo playing and Becky's effortless soaring vocals over the drone of the harmonium are pushing the boundaries of today's indie folk landscape.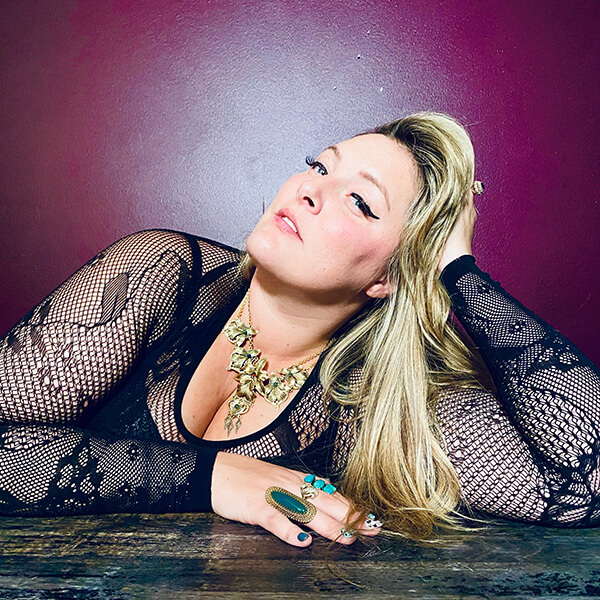 Caitlin Krisko & The Broadcast Asheville, NC
Known for her soaring vocal performances, Caitlin Krisko and The Broadcast is a powerhouse soul rock band hailing from Asheville, North Carolina. Established in 2021, Krisko's electrified and unforgettable performances led to her working with members of Tedeschi Trucks Band and David Bowie's Blackstar Band on the band's newest studio album Lost My Sight. 2022 saw the release of a number of singles including "Devil On Your Side", "Haunted By You" and 2023's first "Blue Monday" on January 13th.
Candice Hill Band Kansas City, MO
The Candice Hill Band is an eclectic group highlighting the unique sounds of steelpan (also known as steel drum) mixed with guitars, vocals, bass, and percussion. The band entertains listeners with styles from calypso music, latin, jazz, soca, pop, reggae, and more.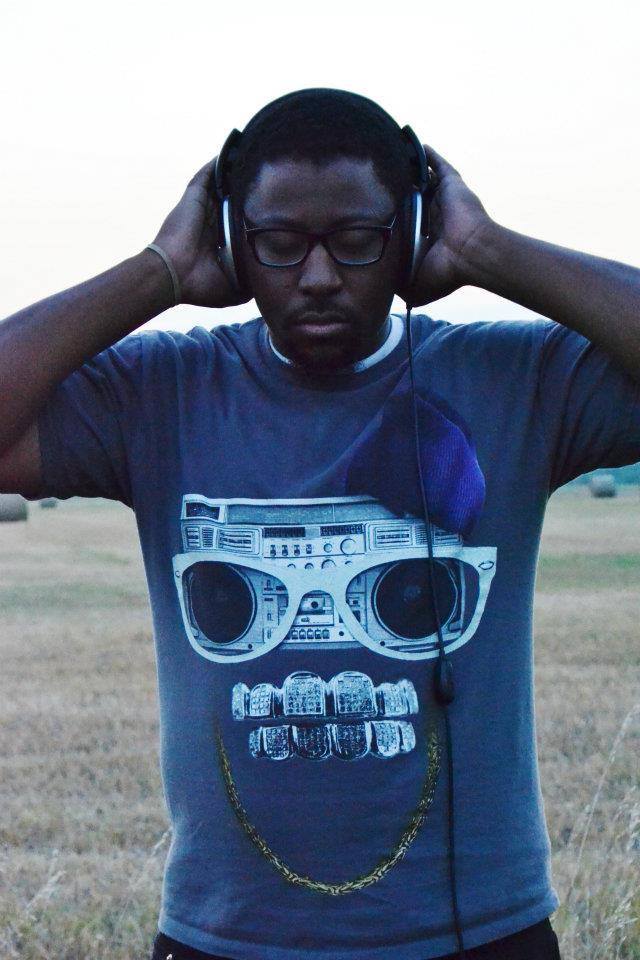 Cash Hollistah Salina, KS
Cash Hollistah is a dynamic hip-hop artist who delivers a funky, high-energy, fun-filled performance that will keep Festival-goers engaged. No novice to the stage, Cash has shared the stage with diverse notable acts, including Common, T.I., Kirk Franklin, and Naughty by Nature.
Clan Tynker Santa Fe, NM
Clan Tynker is a troupe of brothers and sisters who perform a stunning array of talents in a fanciful "Vaudeville" style of Circus. Their all-ages show presents an amazing menagerie of entertainment from "around the world" set to an exciting live musical soundscape.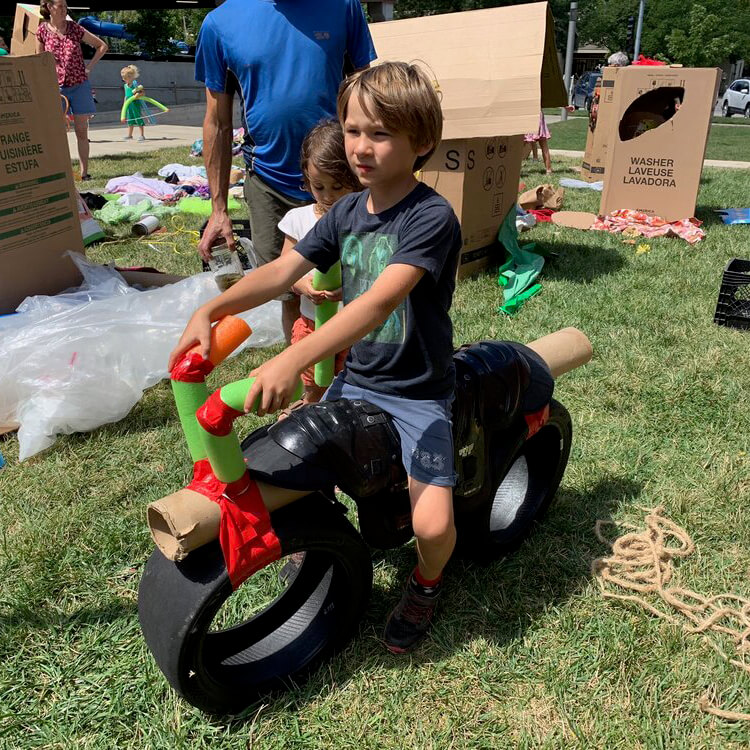 Construction Junction Lawrence, KS
City PlayCorps is a non-profit group of trained advocates for children growing through play based in Lawrence, KS. Their Pop Up Playground provides an opportunity for child-directed play where kids get to problem solve, explore, and build using a variety of materials. While adults are around to facilitate and provide a helping hand, the child gets a chance to take the lead!
Children get to figure out things for themselves, find innovative ways to overcome obstacles, practice working with others, and have fun getting to pursue their own creative ideas. Imagine, Create, & Play!
Drum Safari Kansas City, MO
Brandon and Teryn Draper are no strangers to the Smoky Hill River Festival. This year, Festival-goers can expect onstage excitement, hands-on drumming participation, and the impromptu drum jams that make Drum Safari famous!
Drum Safari Presents: Arty's BIG Party Kansas City, MO
Family fun for ALL AGES! Featuring a live DJ, drumming, dancing ribbons, hula hoops, and a few surprise guests…THIS is the place to be!
Drum Safari Roving Drum Circles Kansas City, MO
Keep your eyes (and ears) peeled for this rhythmic flash-mob experience! When you hear the rumble, be prepared to get your groove on and JOIN IN the fun — percussion instruments are provided for ALL participants!
Duke Otherwise Madison, WI
Duke Otherwise is a playful wordsmith, a spirited performer, a skilled guitarist and a captivating tap dancer.  Using his distinct baritone, he sings hilarious and imaginative songs that all ages will delight in together.  Duke's energetic live show is filled with improvisation, audience participation, dancing, and outrageous fun!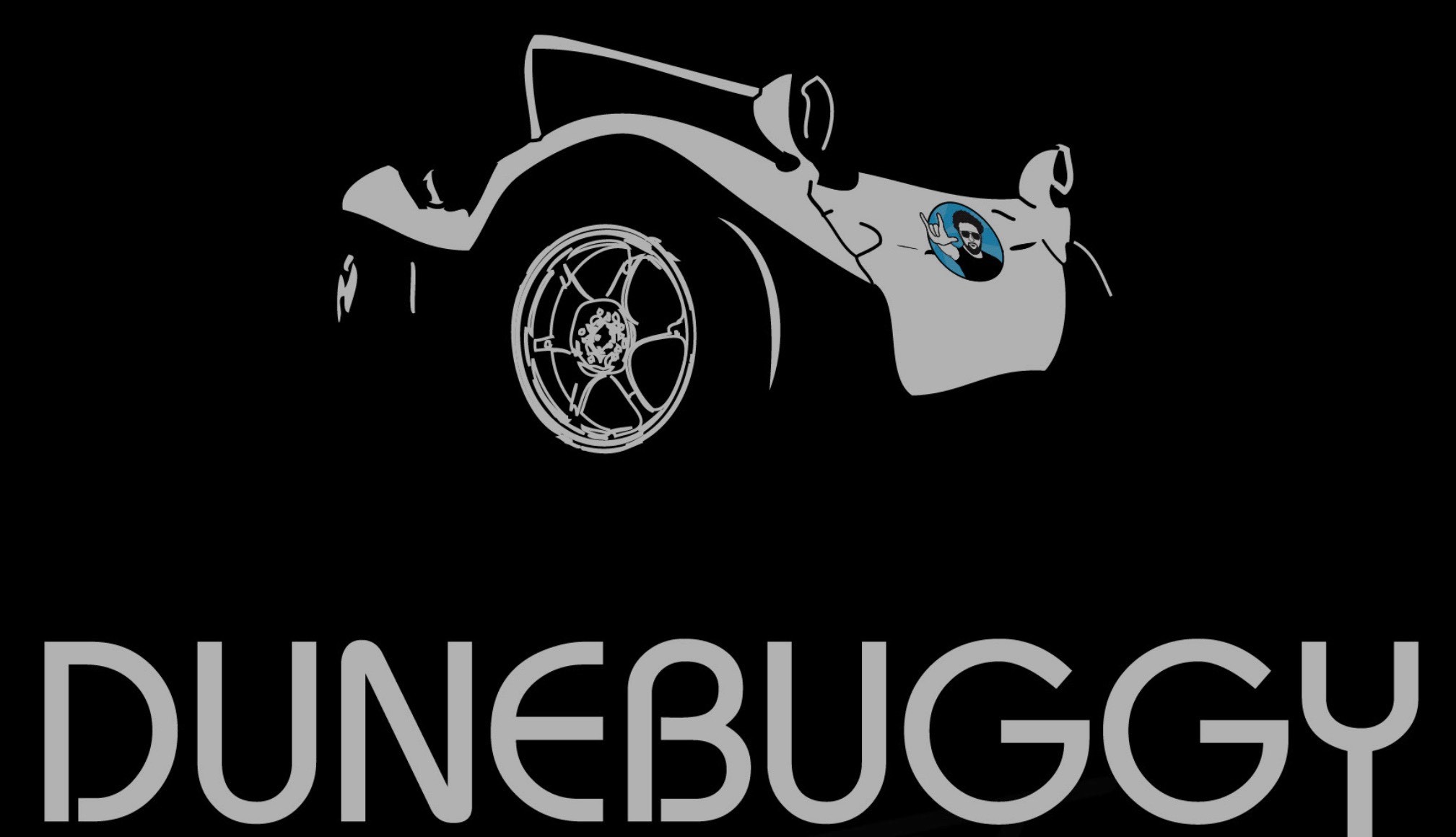 Dunebuggy Salina, KS
Members of local favorite Joe's Pet Project deliver a cornucopia of eclectic covers, toe tappers, and melt your face rock adventures.
Everyday Lights Salina, KS
Everyday Lights is a group of Salina-based musicians with a love for folk and jazz rhythms. Their unique instrumentation and improvised harmony give them a fresh, creative sound that is best realized in their original music. Their ability to combine a variety of musical styles including folk, country, rock, and bluegrass keeps the audience guessing and looking forward to the next
song.
Flint Hills Fairies Wichita, KS
Open your eyes to the magical world of the prairie and catch a sighting of a Flint Hills Wildflower Fairy! Their magic opens the door to the realm of native flora as characters, such as Milkweed, Indigo, or Sunflower, tell stories, play games, and give gifts.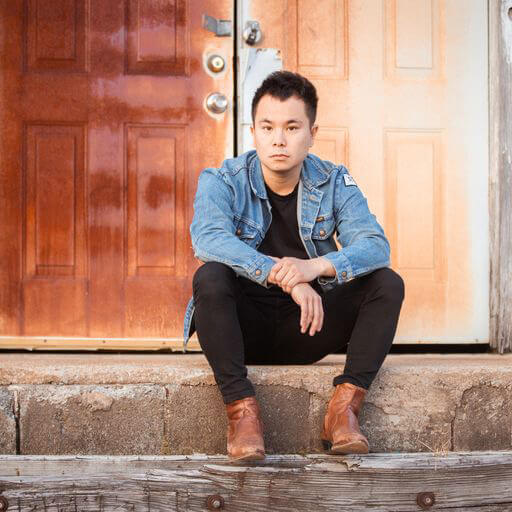 Gabe Lee Nashville, TN
Equal parts classic songwriter and modern-day storyteller Gabe Lee has built his own bridge between country, folk, and rock over the course of three acclaimed albums. His latest release, The Hometown Kid, finds him distilling those sounds into something sharp and singular, examining his roots as a Nashville native along the way.
Gabe Lee & King Margo Nashville, TN
A collaborative musical set between Gabe Lee & King Margo. See individual artist descriptions for details.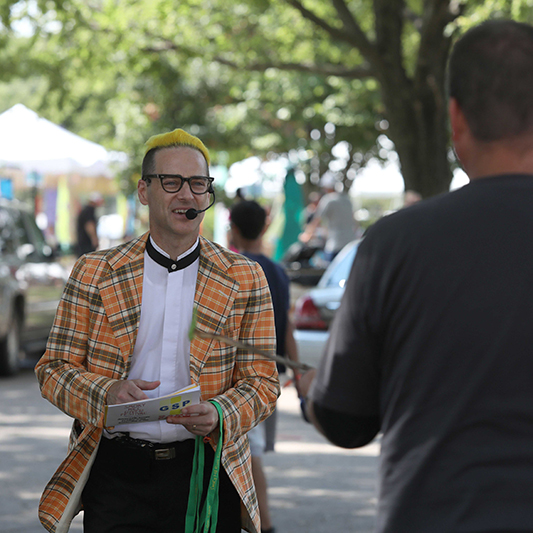 Happy Faces Entertainment Kansas City, MO
Dennis Porter is sure to keep crowds laughing as he engages Festival fans young and old in a host of entertaining games and activities. Teaching, playing, and having lots of fun are what these shows are all about. Come give it a try!
Howard Mahan & Friends Lawrence, KS
SUNDAY HEADLINER
Fresh off the release of their second record, Marigold, Howard Mahan & Friends blends a variety of styles from roots blues to psychedelic rock. Featuring Howard Mahan on guitar and vocals, Vivid Jojo on Drums, and Jimmy "Bad Boy" Lacy on bass guitar.
Jazz Tangent Salina, KS
Jazz Tangent has performed in the surrounding area for many years. Their repertoire includes many different jazz genres, including straight ahead, fusion, bebop, and Latin. Having performed at the Festival in years past, they are back this year for your listening pleasure.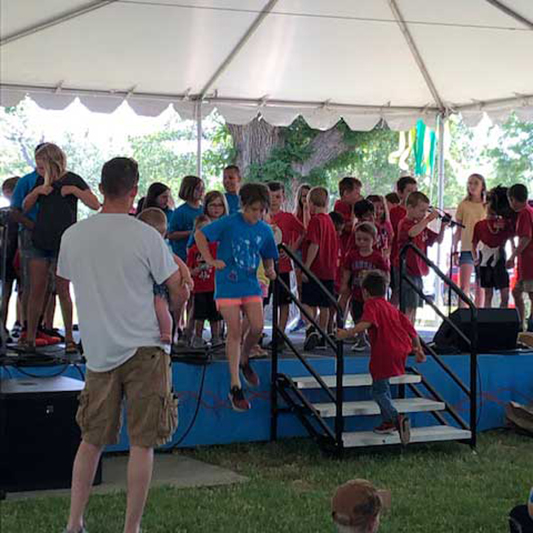 Kidz Bop Salina, KS
"Kidz Bop" albums are comprised of kid-friendly versions of Top 40 radio hits and are sung by and for young children. Join Festival favorites from the Banninger family for this karaoke session just for kids!
King Margo Nashville, TN
King Margo is Lucciana Costa + Rachel Coats, two lifelong musicians who met in Nashville, TN when they were hired for the same touring band. They connected instantly, both musically and personally, and the seeds for what would become King Margo were planted. They are known for their blend of high-energy musicianship, thoughtful lyrics, and soaring harmonies.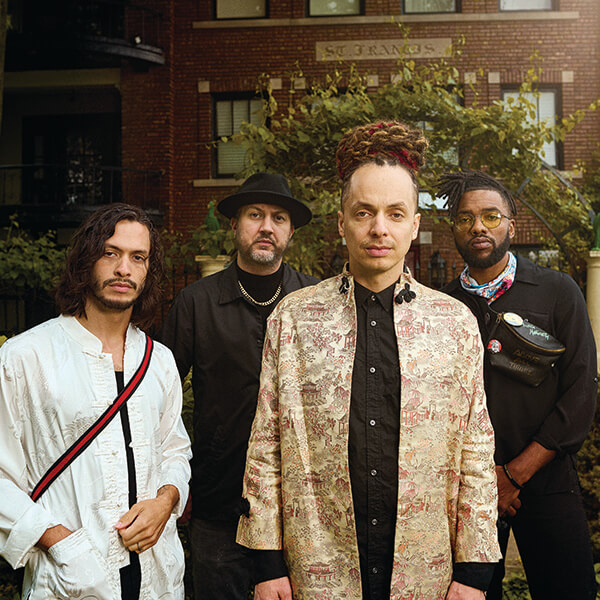 Making Movies Kansas City, MO
Making Movies is a band that makes American music with an asterisk: because Making Movies' sound encompasses the entirety of the Americas. Through this broader perspective, Making Movies crunches classic rock into Latin American rhythms — African-derived percussion and styles like rumba, merengue, mambo, and cumbia — in a way that feels oddly familiar yet delivers the invigorating chills of hearing something singularly special.  
Mattson and Weaver Salina, KS
Mattson and Weaver a long-time Salina folk duo, will rove throughout the Festival. Look for them amongst the bustle, or take a break for some of their music in an out-of-the-way shady spot.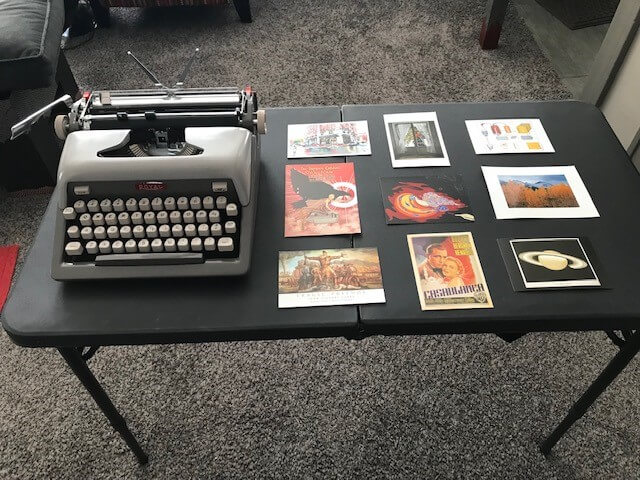 Mike Durall – Postcards & Letters Salina, KS
Visit Mike Durall as he writes letters for festival-goers on postcards.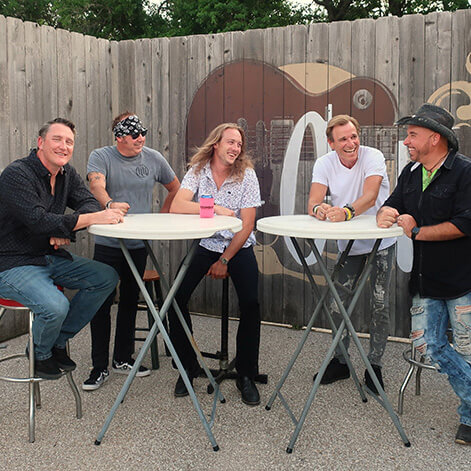 Paramount Wichita, KS
FRIDAY HEADLINER
Festivals are discovering PARAMOUNT's 80s Rock Tribute can be fun for the whole family, and the band's summer events calendar fills faster every year. Larger venues like KC's Arrowhead Stadium and Wichita's Cotillion Ballroom continue adding PARAMOUNT to their live entertainment offerings as sure-fire crowd pleasers. Traveling with amazing sound and light production, PARAMOUNT delivers a Live Experience deserving of the decade called… "The BIG 80s!"
Randy Baldwin Band Salina, KS
Randy Baldwin started out as a local boy, graduating from Salina South HS. He spent years in California with his original band Trial By Fire, signed a record deal, had radio airplay nationally, and toured the US on several occasions. The Randy Baldwin Band consists of local musicians Brett Pennington, Jeremy Goossen, Tanner VamAmburg, and Caleb Grandy performing original works by Baldwin and Trial By Fire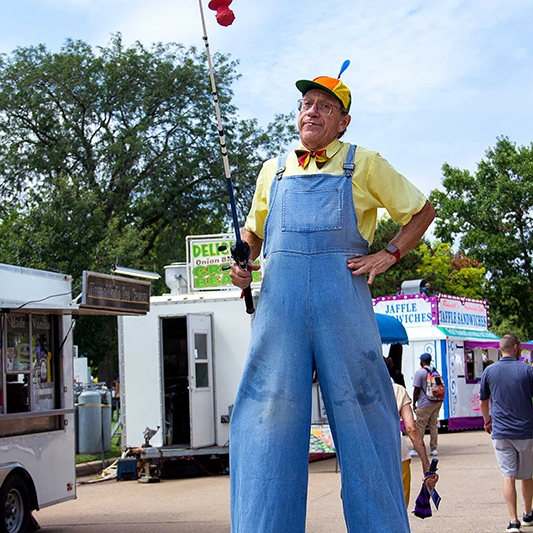 Richard Renner Lawrence, KS
Hedge People, the Recycle Cycle, and more. Richard Renner is bringing his wacky bag of tricks to the Festival this year! Each day, visitors will experience new characters and opportunities to interact. Why have a little fun when you can have TOO MUCH?!
River Puppet Palooza Salina, KS
Friends of the River Foundation's river puppets are on the loose at the Festival. Watch for their flowing 25-ft River Puppet and Bella Beaver, Bartholomew Bullfrog, Mr. Great Blue Heron, and Edna C. Channel Cat.
Rudy Love & The Encore Wichita, KS
A singer/songwriter/keyboardist with deep musical DNA, Rudy Love has developed a distinctive voice, giving his all with every performance. Rudy Love Jr. & The Encore provides a seamless blend of R&B, soul, funk, pop, and rock to the Festival mainstages.
.
Salina Central Jazz Combo Salina, KS
Learning the art of improvisation is like learning how to fly; you just have to make the leap.  Enjoy these young players – surprising things will happen!
Salina Municipal Band Salina, KS
Now celebrating an impressive 137 years, this hometown band plays from the great American songbook and much more.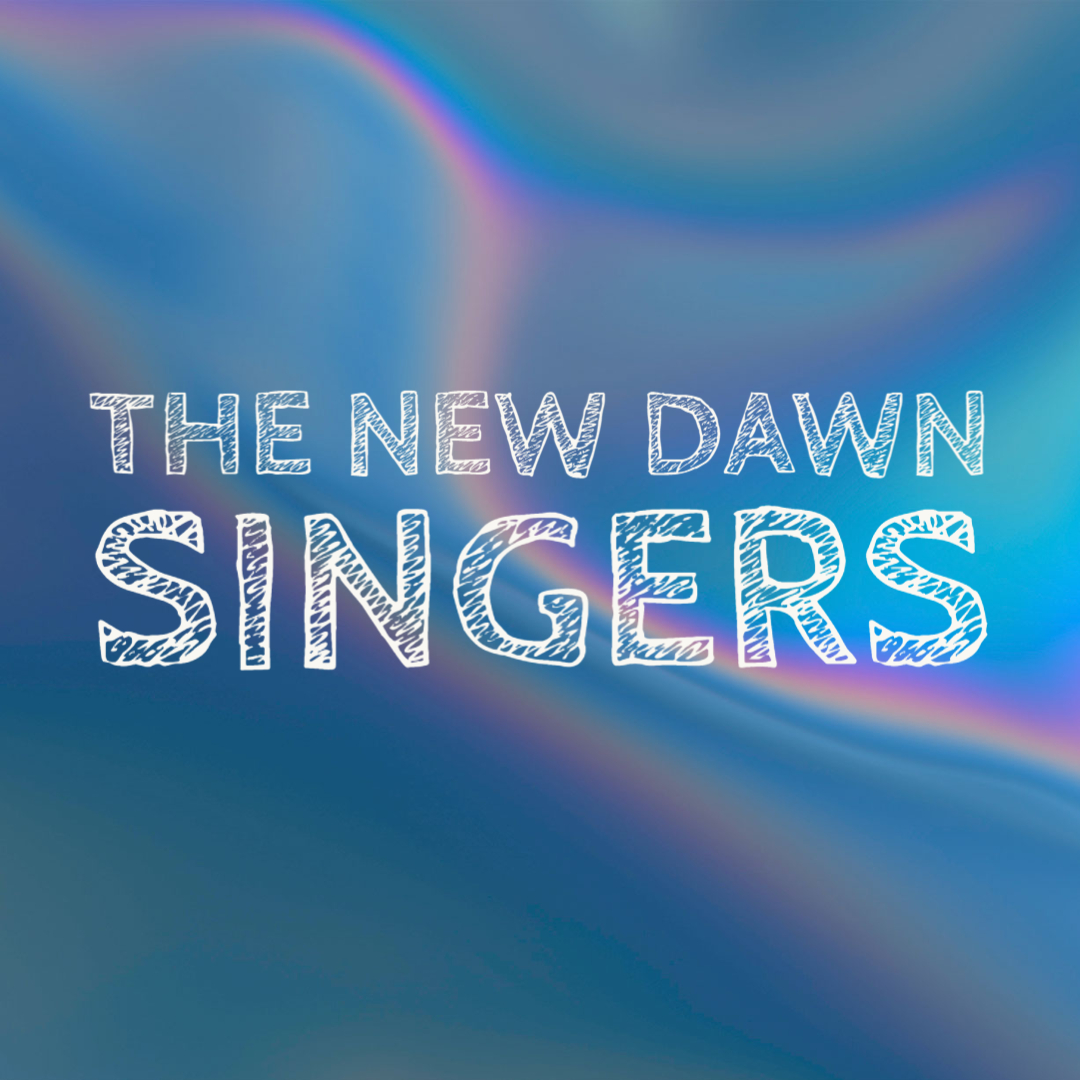 Salina South New Dawn Singers Salina, KS
Led by the inimitable Eddie Creer, this ensemble will display surprising set choices, arrangements, and vocals.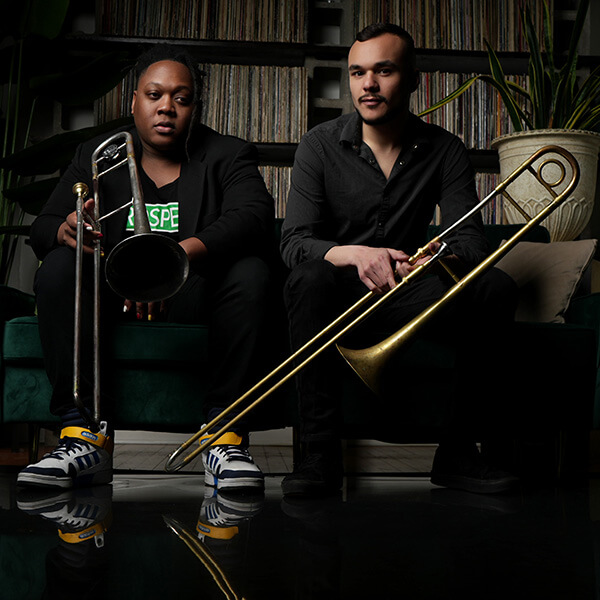 Splatt Kansas City, MO
Splatt is Kansas City's newest brass innovation. A collaborative pairing of vocalist/trombonists Kadesh Flow and Trevor Turla, Splatt blends soul, hip-hop, jazz, and funk together to generate a powerful, trombone-fronted musical experience.
Taylor Kline ft. Mandy Kary Salina, KS
Taylor Kline has been performing around the Midwest for over 10 years as a solo act as well as with various groups. Mandy Kary now joins him as a folk-country duet. Performing both Taylor's original music and a wide variety of classic covers, they are accompanied by acoustic guitar, harmonica, mandolin, piano, and dual harmonies to provide more energy than your typical duo.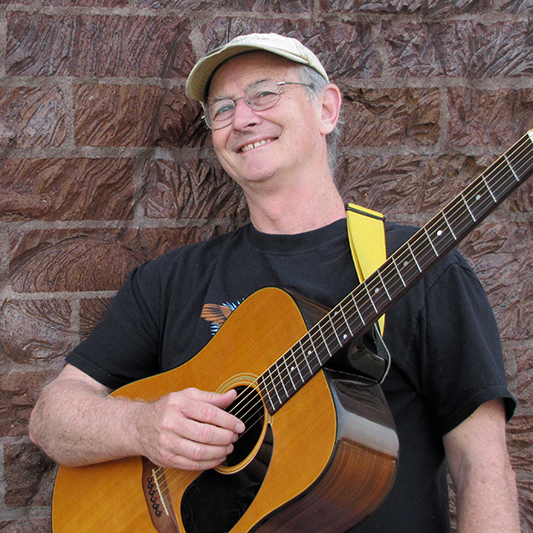 Thad Beach Salina, KS
All Aboard! for an engaging, musical excursion! Work together with Thad Beach to fire up the steam engine, punch your tickets, and head down the tracks on a joyful journey filled with songs, stories, and a homemade band. Watch as Thad showcases the tenor banjo, washboard, limberjack, harmonica, ukulele, jaw harp, and kazoo.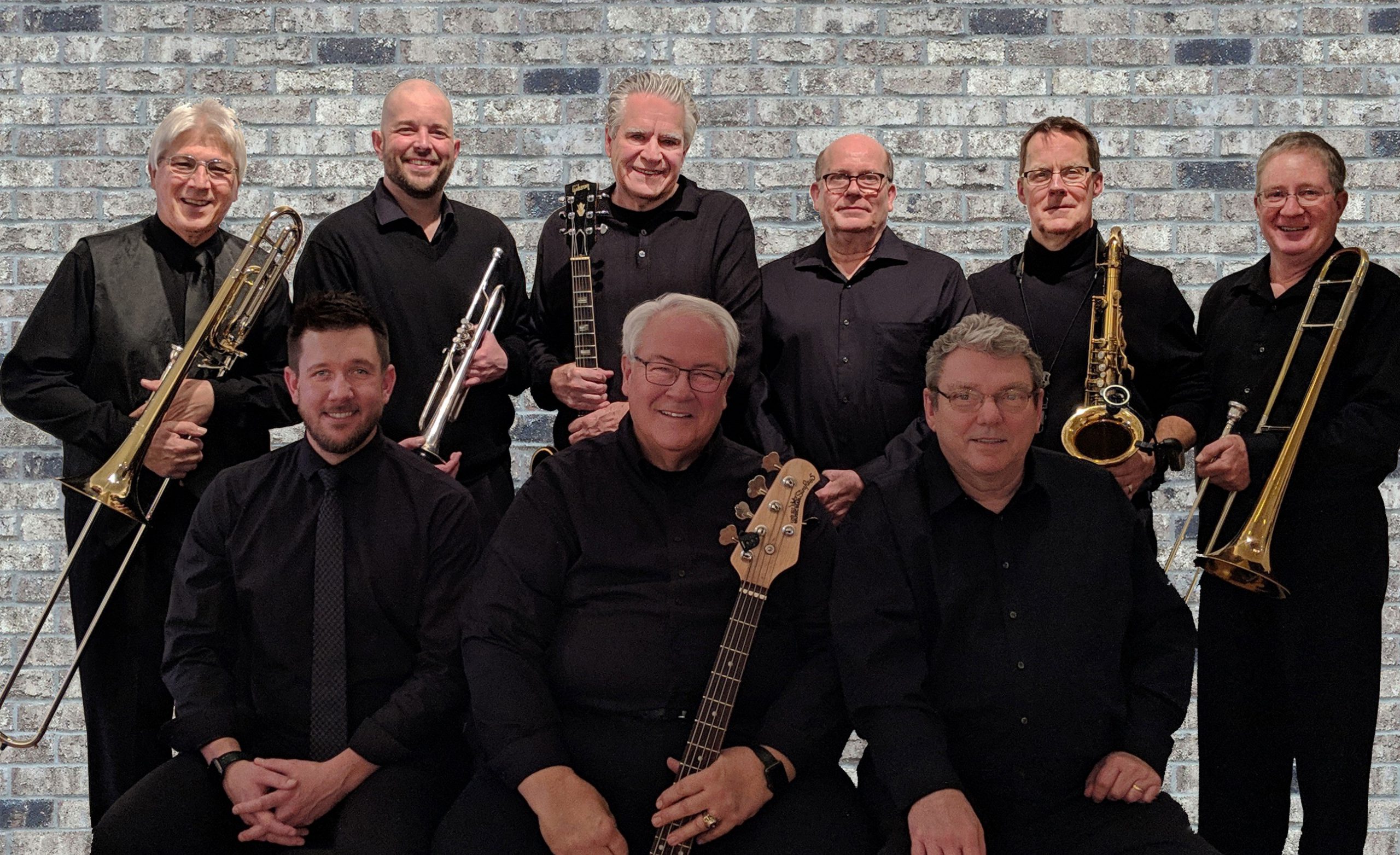 The Blades Salina, KS
Salina's own horned-based party band always has something new to offer – great vocals, amazing percussion, and a feel-good vibe.
The Freedom Affair Kansas City, MO
The Freedom Affair is a 9 piece soul juggernaut. The band was formed in 2017 with a vision to write original soul music inspired by the traditions of the genre's past with a universal message looking toward the future. Their live shows have proven to be soul-stirring, transformative events moving audiences both physically and emotionally to joy, tears, and elation. Crowds rave about the fireworks these folks bring to the stage.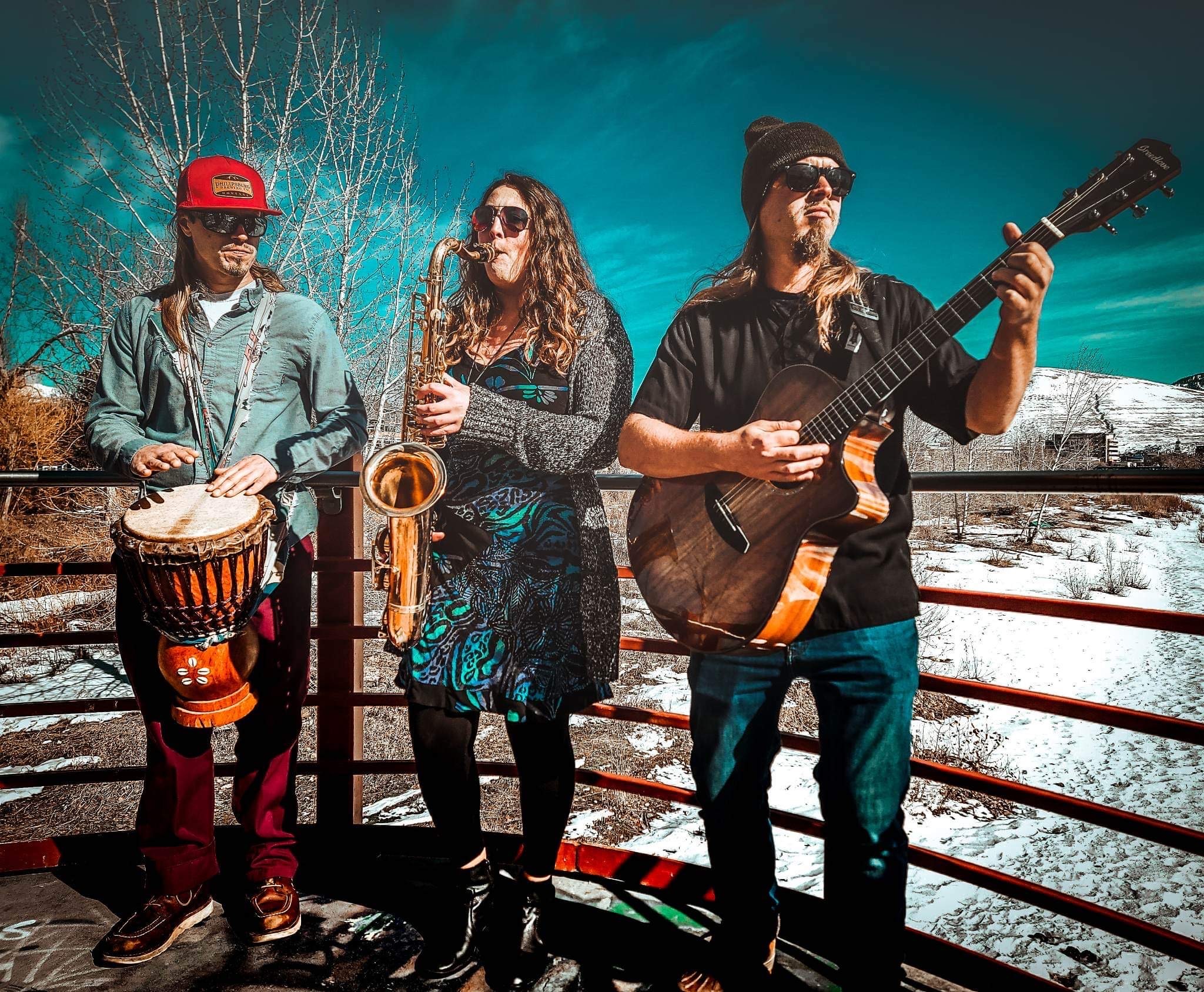 The Gravy Ladles Missoula, MT
Serving up a heaping spoonful of Americana with home-cooked originals and spiced-up covers! Sky, Alia, and Kevin bring soaring three-part harmonies over saxophone, fiddle, ukulele, djembe, and more as they play bluegrass, blues, rock, reggae, and funk.
Welshly Arms Cleveland, OH
SATURDAY HEADLINER
After dropping their anthemic single Legendary in 2017, the indie rock world was quickly introduced to Welshly Arms' penchant for unleashing larger-than-life alt-rock bangers and spine-tingling live performances. Heavily influenced by the classic Cleveland sound, the eclectic group harkened back to their diverse musical roots for their latest music release; from jazz to soul, gospel to blues, rock to alternative, and everything in between.